Findings from the report point to rising prices in hubs throughout the country; particularly, in Ontario and Quebec. According to the numbers, the median price per square foot of condos sold in the Greater Toronto Area rose 9.1 per cent (to $743/sq. ft.) since the same period last year. Meanwhile, the Greater Ottawa condo price per square foot appreciated the fastest among Canada's largest markets, rising 17.9 per cent year-over-year to $395; while prices in Greater Montreal Area rose double-digits year-over-year, increasing 10.3 per cent to $362.
"In Canada's largest cities, many younger buyers searching for affordability and baby boomers looking for maintenance-free living purchase condominiums. Not surprisingly, that strong demand has pushed up the price per square foot, with the exception of Vancouver and Calgary," said Phil Soper, president and CEO, Royal LePage. "Buyers are adapting by purchasing smaller units, especially among those looking for entry-level properties."
Prices have softened in the Greater Vancouver Area, where the median condo price per square foot declined by 8.3 per cent to $764 – the most of any major market in the country. Despite the drop, the price per square foot in Vancouver remains the highest in Canada.
Elsewhere in Canada, median condo prices also dipped in Calgary by 67 per cent to $313/sq.ft., making the Albertan destination the most friendly for potential condo owners.
"Calgary condominiums offer the best value in Canada's major markets," said Soper. "It is no wonder that the city vaulted to number four in The Economist's ranking of the World's Most Livable Cities."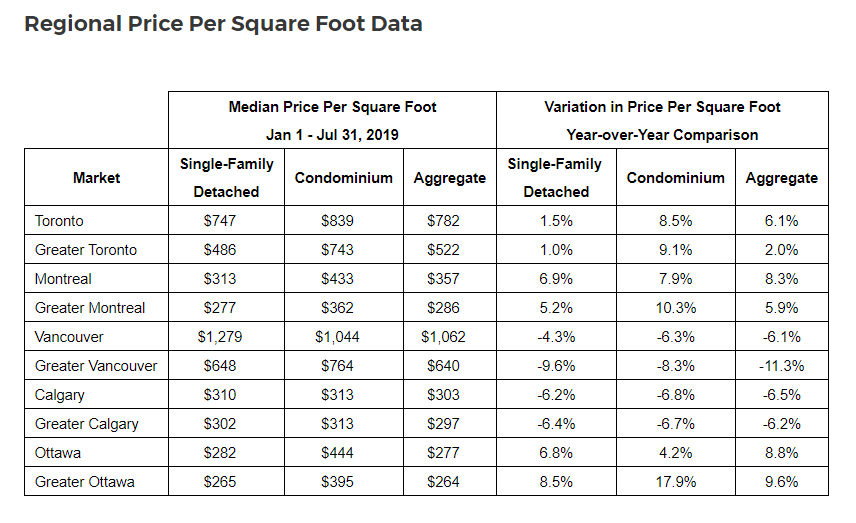 As for where condo buyers can get the most space for the buck, Royal LePage reports that Montreal and the Greater Montreal Area offer the largest median condominium living space at 944 square feet and 989 square feet, respectively. In contrast, the Quebec locales offer 25.5 per cent and 21.0 per cent more condo square footage than Toronto and Vancouver, respectively.
Except for Vancouver, the median price per square foot for condos is higher than single-family detached homes across all the markets covered by the study.
Written by: Remi Network